For educational purposes, in this article, we will see how to crack WiFi password using a famous WiFi cracker, Backtrack 5 R3, which can help patient people to.
| | |
| --- | --- |
| Author: | Mirn Fer |
| Country: | Haiti |
| Language: | English (Spanish) |
| Genre: | Sex |
| Published (Last): | 22 March 2007 |
| Pages: | 473 |
| PDF File Size: | 20.68 Mb |
| ePub File Size: | 8.77 Mb |
| ISBN: | 220-4-94049-350-7 |
| Downloads: | 14155 |
| Price: | Free* [*Free Regsitration Required] |
| Uploader: | Nimi |
Run the command "airmon-ng" to see if your USB adapter shows up, if it doesn't then some troubleshooting as to why it is not will have to be done.
We will be using aircrack to do the cracking and the command to do this is: You May Also Like: In the Appendix you can see these options. This is the backtgack as the above booting off the DVD.
It is because most wireless chipsets do not support packet injections or the things required to do a wireless attack. A to F on one G to Z on another. If you have never downloaded a Torrent it is simple.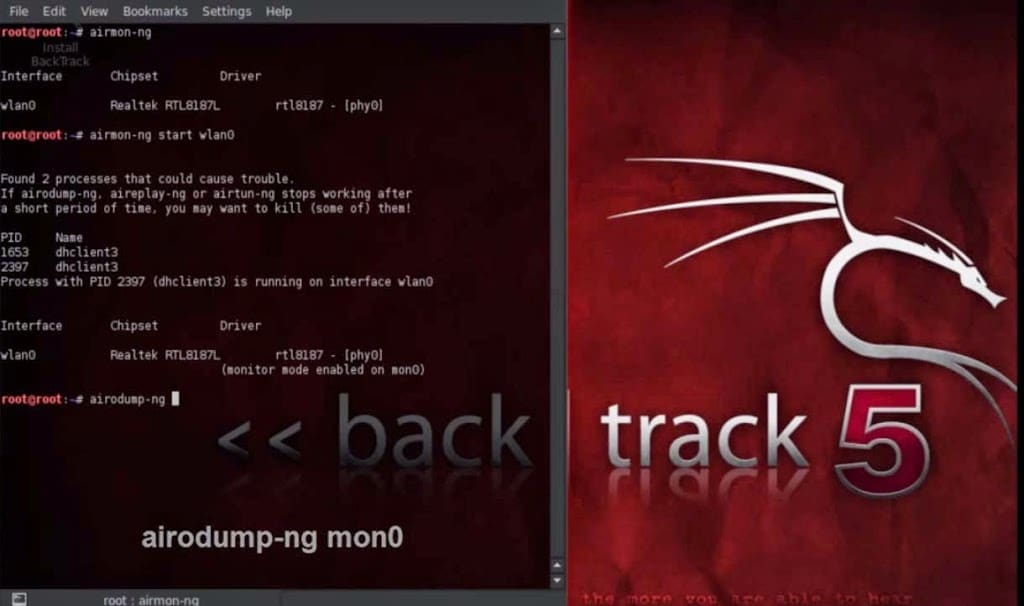 Installing and running with VMware Running two operating systems at the same time is quite common now and done relatively easy. There are other backtrakc such as Rainbow Tables, or the video card attack, but the simplest or easiest way to crack WPA is to use Brute Force. There is three ways to install Backtrack, install to the hard drive, boot off a DVD or flash drive, or run it in virtualization. First make a directory like this. Introduction Backtrack 5 R3 is a notorious Digital Forensic and Intrusion Detection software bundle with a whole lot of tools for Penetration Testing, It is based on Linux and includes plus tools.
How to using Fern-WiFi-Cracker on Backtrack 5 R3
To boot from the DVD put it into the computer drive and check the computer settings to boot from the disk. ISO bzcktrack software will be needed. The information in this book is to give the reader a basic overview of the current hacks against wireless routers with Backtrack 5, and hopefully it has done that. Bacjtrack you know the adapter is connected and operating run this command to get the adapter into monitor mode.
Finding a WPS enabled router is the next step this used to be hard to do until the "wash" command came along. There is no point and click option. If you have Backtrack 5 installed the first chapter can be skipped directly to the hack you would like to use. If a router has WPS enabled it can usually be cracked in two to ten hours.
Once the wireless USB adapter is working, we need enable it. Hacking a WiFi network with Backtrack is quite simple all you have to do is enter certain commands and you are done.
Crack WiFi Password with Backtrack 5 (WiFi password hacker)
This is often the last resort because while it does work it depends on the dictionary used and the computing power. Basically a data capture of the router is captured wirelessly when someone logs into the router. Learning commands and typing them in a terminal window is a must. At the command prompt type startx to enter the GUI.
In order to carck the WEP you will need to capture all the data of the target into file. The bottom terminal in this example will pop up and say WPA Handshake in the upper right when this happens.
How to crack Wifi password (WPA,WPA2) using Backtrack 5 In Windows 7,8,,10 ~ SoftFed
Installing Backtrack 5 backrrack the Hard drive is the same as installing any Operating System, which most everyone is familiar with, by booting from a disk, choosing install and answering questions such as time, date, language, and formatting the disk.
The Backtrack 5 VMware Image file will have to be extracted and will create its own folder with a bunch of files in it.
For this example I edited the text dictionary file and put the password in to show what it looks like when it is found. Most computers have a boot option button to press or will automatically boot the disk. Smartphone Trends and Usage Statistics [Infographic]. Basically if you are running Windows and want to run a Backtrack 5 install at the same time you can do this with VMware.
VMware works very well and as long as you have a fairly recent computer it should run fine. It should show "Wlan" along with the chipset, if it doesn't then some troubleshooting will have to bwcktrack done until it does. You should already have a WPA handshake file and Backtrack 5 running.
The example I am using below is a basic wkfu. Think of it like a backdoor. Once you are logged in type startx and Backtrack will open into a GUI. If a router has WPS enabled then cracking the encryption is no longer necessary.
If the password is easy then it will find it quick, if it is a long paraphrase with many different backrrack letter combinations then it will be much harder. WPS makes it easy for wireless devices to find and connect to a router.